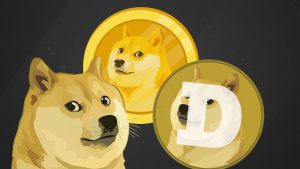 Dogecoin, the popular meme coin known for having powerful supporters, is all fired up as Bitcoin, against all odds, reclaims the $38,000 price levels.
On the FTX exchange, the seventh most valuable crypto asset traded around $0.23 with a daily trading volume of about $3 billion. Dogecoin is up nearly 16% for the day, as the meme coin presently has a market value of about $30 billion with a circulating supply of 130,586,131,924 DOGE coins.
Market sentiment further strengthened in the altcoin market on reports that the world's largest online shopping company, Amazon, is considering crypto-assets for payment.
Giving credence to such narrative are macros showing Amazon is hiring a digital currency and blockchain product lead for its payments team, further pushing the meme coin above its strong resistance level of 20 cents.
Also, limiting short-sellers impact at least for the near term is FTX, a fast-growing crypto exchange, disclosing that it was curbing a type of high-risk trading that has been blamed in part for a significant number of liquidations and high price swings. This move further gave the meme coin bulls enough gas to aim for 25 cents.
On the flip side, it appears Elon Musk's influence on the meme coin is dwindling as his recent tweets have had no significant effect on the crypto asset. This further suggests dogecoin will need to go more into mainstream payments amid its infinite supply.
Dogecoin is a type of digital coin that is decentralized and facilitates peer-to-peer digital transactions. This means you can send money online with much ease. It is usually referred to as "the internet currency."
It is different from BTC's proof-of-work protocol in many ways, one of which is the Scrypt technology. The fast-growing altcoin also has a block period of 1 minute, and the total supply is unlimited, meaning that there is no limit to the amount of Dogecoin that can be mined.