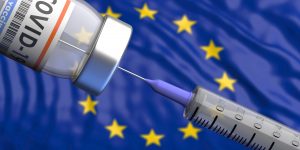 European Union governments reached a deal on technical standards for so-called vaccine passports, advancing the effort to boost travel to and within the bloc in time for the summer season.
Envoys meeting in Brussels on Wednesday unanimously supported a draft legal text setting out specifics for "digital green certificates," according to a diplomat familiar with the private meeting. The documents will provide proof their holders have been vaccinated against the coronavirus, tested negative or have recently recovered from the disease and are considered immune.
Negotiations between governments and the European Parliament will follow and the aim is to finalize the legal text by May. The deal could allow the resumption of hassle-free travel, without quarantine requirements, for vaccine-pass holders as of June. Airlines and industry groups have already introduced apps that are capable of incorporating information on tests and vaccine status.
European travel and leisure stocks have gained 20% this year on the expectation that an accelerating vaccine rollout will pave the way for normal travel patterns after a yearlong slump in air traffic and hotel-stays induced by the pandemic.